permanent pain
and it sucks so much!
I already mentioned it in my previous entry, but in the past few days it has become worse and worse.
AND I have no freaking idea what is going on!!
My neck and shoulders are stiff and hurt.
Well, that happens sometimes, right? I had that many times before and usually it gets better again after some time without me doing anything.
This time however it's not just my
neck
and my
shoulders
, it's also my
back
, my
hip
AND the inner side of my left
thigh
!!!! o_____O'''
The latter one really doesn't make any sense.
At first I thought I maybe had sore muscles, but it just didn't get better at all. In fact, it has gotten worse. And it's only the upper left thigh!!!
I researched a little and there actually seems to be a connection between pain in the thigh(s) and back pain.
However, if you have pain in only one of thighs on the inner side, then it usually comes from playing soccer. WTF????
I swear I haven't done ANYTHING recently that could have caused it!!
Maybe I'm sleepwalking?
"Luckily" my thigh only hurts when I walk or when I touch the muscle(s) there. It's ok when I sit.
However, the rest of my upper body hurts all the time, especially my shoulders and my back. I can't even tell if it's the bones or the muscles, but I guess it's all the muscles.
The issue is that I
CAN'T go to a doctor / clinic
anymore before I leave for Germany.

I have 3 more days at work and am also busy before work. Then, I have Sunday off and I'm flying on Monday.
I'm just worried how I can manage to survive in Germany with all that pain. It's not a strong pain, but I'm exhausted, cuz it's a permanent pain, no matter what I'm doing, it's always there.
Even if I could go to a doctor before I have to leave, I'm not sure if they could help me right away. And in the worst case I would be told to stay here and not to go to Germany.
(
Read more...
Collapse
)
I wonder why this has to happen NOW ....... I haven't been back home in 2.5 years, you know? :( .......

I'm in
Current Mood:

crappy

Current Music:

"Rihanna - Diamonds"
One of the tricky things about having a studio is that I leave most of my art supplies there. So when I want to draw things at home, sometimes I have to scrabble around for bit and bobs to colour things. Last weekend I cleaned out my desk and found a pack of
Letraset Promarkers
I didn't know I had. I think I bought them because Posy Simmonds had told me she used them to add the blue tone to her book
Tamara Drew
. And they work beautifully! I had fun colouring these Santa Sharks.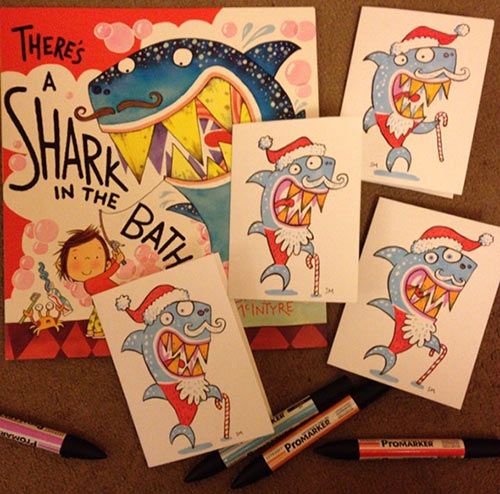 There's a Shark in the Bath
doesn't come out with Scholastic UK until 2 January. (...But I hope all the shops are putting in their orders now!) In the meantime, I've made up some Santa Sea Monkey gift tags, which you can download as part of the
Seawigs Perfect Prezzie Pack
. (They're free, and you can use them for prezzies other than my book, that's okay.)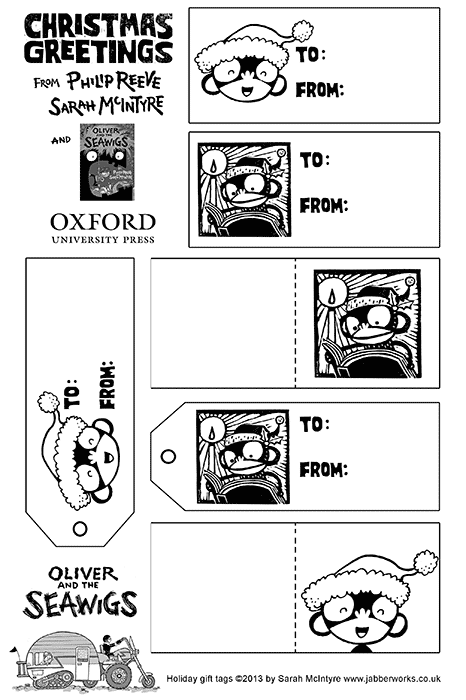 If you still haven't seen the interior pages of
Oliver and the Seawigs
,
Jonas Anderson
has tweeted a Vine video with a little peek:
Last week
Philip Reeve
announced
Mortal Engines Week
, and posted a fragment of the fourth book in the Fever Crumb quartet, the Mortal Engines prequels. You can
head over to his blog and read it here
! And don't miss some of the
other posts
, there's some fascinating Mortal Engines inspired artwork there.
I'm getting really into silly sea life these days.
The Funday Times
! (This time I was briefed that the theme would be
Walking with Dinosaurs
and Christmas.)
And a big thanks to
Daniel Hahn
, who listed
Oliver and the Seawigs
in his roundup in
The Independent
of this season's best children's books. He starts the article with a big plug for the
Asterix
comics, and you can
read it here
.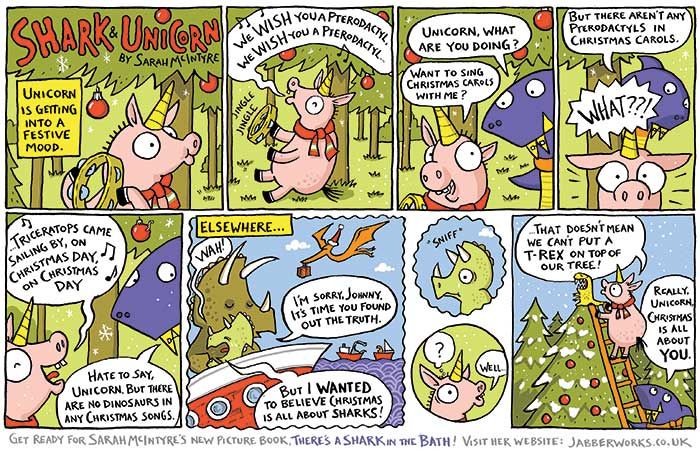 Here's my comic strip that ran this weekend in
Про "подружиться с зеркалом", и про "ходить кругами", и про "подобное притягивает подобное".
Я тоже думала об обычном зеркале сначала. А потом, когда дошло до "самого бреда", поняла, что зеркало для меня -- моя трехлетняя дочь. Которая рисует странные фигуры, очень плохо говорит, всех людей боится, у которой суставы также выкручиваются почти на 360 градусов. И она всегда просто дулась и молчала.
Для вас же это — кто-то другой. Сами подумайте, кто.
И вот, ее прорвало. И, оказывается, еще как говорить умеет, как бы ни коверкала слова. Там было и про "я -- гусь с тремя клювами, которого никто не любит и не понимает", и про "я не умею говорить, не умею рисовать", "ничего не умею", "у меня все болит". И ее тоже трясло всю, она отпиралась от меня и орала, орала.
И -- что?
"А кто-то умеет все делать с самого рождения?" -- Нет. Все учатся. Кто-то, заручившись поддержкой, преуспевает. А кто-то, кого отшивают и вместо "поговорить наконец" задаривают игрушками и завлекают мультиками, вот так и копит в себе эту Черную Дыру. Пытаясь ее впоследствии заполнить чем угодно. Отсюда же и наркомания, и алкоголизм, и курение, и анорексия, и булимия, и желание всех убить, и сойти с ума, и все в целом. Потому, что каждому кажется, что его история -- уникальна и ее никому нельзя рассказать.
И я с ней говорила, пару часов, может. Через все истерики и отпихивания. Что и "гуся с тремя клювами" все любят, просто пока его еще не умеют понимать. Но если он не будет упираться, то обязательно поймут. И будут любить по-прежнему, каким бы он ни был.
Ну-с, вот так.
"Теперь — пишите сами".
И знаете, до какого момента вас будет "двоить", если полезете в этот лабиринт? -- Пока не вчитаетесь в пятисотый раз во все ранее написанное.
pop over there to read In the Bleak Midwinter
.
Ha ha, here's a cartoon that
Steve Lenton
sent me after Tuesday's
Nosy Crow party
. After appearing all over the
Achuka blog
coverage of the party, I saw Nosy Crow quite rightly kept their
own blog post
carefully about their own authors, even though my turquoise froth kept photo bombing their snapshots. I do hope I wasn't too attention-seeking in my big wig. ...Okay, sorry, yes, I was. So now I have to say lots of nice things about Nosy Crow all year to make up for it, even thought they are not my publisher. Starting with their illustrator Steve Lenton. He is a lovely chap, you should follow him on Twitter (
@2dScrumptious
).
If there's any way you can get over to the
Wales Millennium Centre in Cardiff between now and 5 Jan
, you absolutely MUST check out their
Hiber Nation
exhibition of work by
Felt Mistress
and
Jontofki
. Felt Mistress sews incredible 3-D monsters from drawings by Jontofski (aka Jonathan Edwards).
And I always get excited about the ways Jonathan experiments with patterns and shapes in his drawings. Check out this beautiful landscape! You can read more about the exhibition over
on Design Week
, on
Inkygoodness
and
BBC Wales
.
And very exciting, for the first time,
The Bookseller
has picked its top 32 Books of the Year, and included
Oliver and the Seawigs
! Most of the books are for adults, but I'm pleased to see some books for children and teens in there:
Liz Pichon
's
The Brilliant World of Tom Gates
,
Patrick Ness
's
More Than This
,
Holly Smale
's
Geek Girl
(Wow, is that book doing well for a debut author!) and
David Walliams
'
Demon Dentist
. One comic (a cracker of a comic,
read my review!
):
The Encyclopedia of Early Earth
by
Isabel Greenberg
. And one all-ages picture book,
Maps
by
Aleksandera Mizielinska and Daniel Mizielinska
.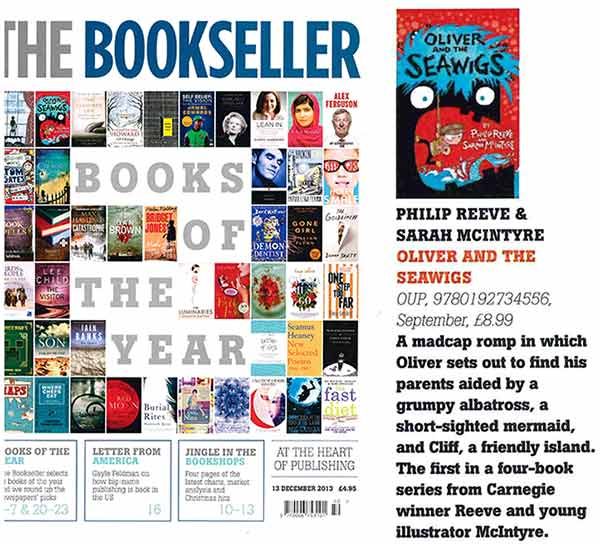 In case you missed this when we first posted it, here's the first story on which Philip Reeve and I collaborated, set in his Mortal Engines world. (I dared him to include a severed head in it, such a traditional Christmas element.) He's running Mortal Engines week over on his blog, so